The main task of the department is the design of modern systems of interval traffic control, communication systems, fire and security alarm systems. The department is formed of highly qualified specialists with many years of experience in design, construction and operation of automatic devices, telecontrol and communication on railway transport.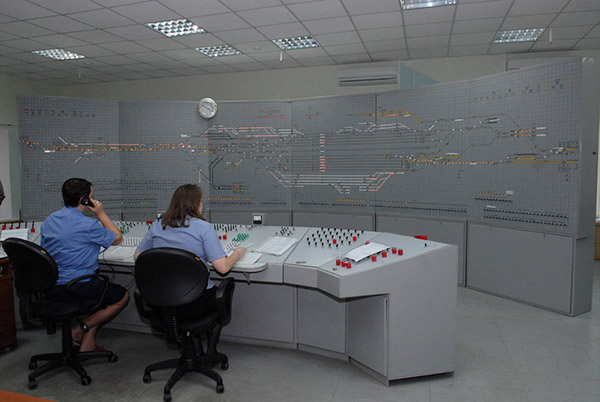 Major objectives of the ATC department is the development of design documentation for:
Arrangement of railway automation, telecontrol and communications;
Internal and external radio networks for the industrial and residential buildings and structures;
Fire and security alarm systems;
Automatic fire suppression.
Key focus areas of our department:
— With regard to the design of signalling and interlocking devices:
Electric interlocking;
Microprocessor-based interlocking of Ebilock-950 and ETs-EM types;
Relay-and-processor interlocking;
Relay systems for automatic numeric-coded circuit blocking;
Relay systems for three- and four-digit combination automatic blocking with the audio frequency track circuits and centralised equipment layout (ABTTs);
Automatic blocking systems integrated to microprocessor-based interlocking circuit;
Microprocessor-based automatic blocking system with the audio frequency track circuits and centralized equipment layout (ABTTs-M);
Signalling controls with technical diagnostic and monitoring systems for signalling and interlocking devices based on APK DK and ADK STsB;
Crossing over, tunnel and bridge signalling arrangements;
Centralized traffic control arrangements;
Arrangement of automatic switching;
Signal track circuits of sound frequency;
System of axles count;
Modern power supply equipment for the electric interlocking and automatic blocking systems;
Train braking automatic control system;
Relay and microprocessor-based semi-automatic block systems;
Key interlocking of points and signals;
Pneumatic tube system for dispatch of freight documents.

— With regard to the design of communications devices:
Rearrangement of the existing linear and station communications networks;
Primary and secondary communications networks for railway transport;
Trunk line, road and branch communications;
Operational and technological communication, including the train dispatching, power dispatcher, linearly-road, service, inter-station, section, station by station;
Technological digital and analogue radio communications;
Bilateral park and loudspeaker information communication;
Fiber optic communication line;
Arrangement of the data transmission network with synchronous and asynchronous digital hierarchy;
System of fire alarm and fire fighting facilities.