Activities of the DESIGN INSTITUTE OF TRANSPORT INFRASTRUCTURE LTD (IPIT LTD) have been aimed to win the trust and respect of consumers, creating and maintaining the conditions, under which current and potential customers needs and requirements are decisive in the enterprise operation.
Our experience:
We are the leaders in the design of the industrial sector of economy. An integrated approach in addressing the challenges of engineering survey and design of facilities makes it possible to carry out a number of works in parallel without compromising quality. We are ready to share this experience and these possibilities with our Partners.
Client-oriented approach
DESIGN INSTITUTE OF TRANSPORT INFRASTRUCTURE LTD has a long-term strategy, is developing dynamically, cares about creating mutually favorable conditions of cooperation with our Partners. We are for the frank and honest approach in dealing with the customer and are ready for the most demanding requirements in relation to us. The Institute builds relationships with its Partners on the basis of a trusting relationship to maintain long-term cooperation. We guarantee attention to detail and impeccable quality.
System of quality management
The quality management system certified for compliance with the international standards ISO 9000 has been developed, implemented and is effectively functioning in the Company.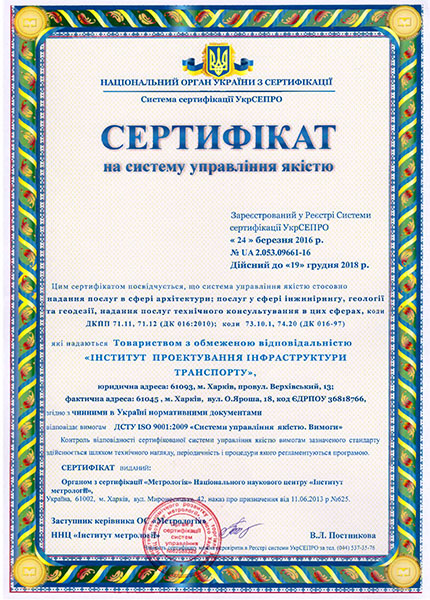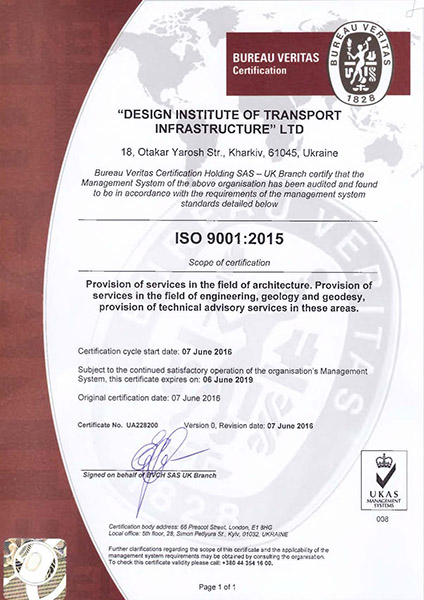 Advanced design technology
Our Institute uses the latest technology in the field of computer-aided design in the production of project and survey works. In our work, the employees use software that allows the Company to declare its readiness to implement BIM-projects according to the advanced and highest standards.The Institute has built a unified information space of the enterprise and introduced electronic document management system of technical documentation and engineering data, which allows organizing an electronic archive of technical documentation of a new level, and thus ensuring the current level of collaboration on projects. The introduction of the latest corporate information systems allows the Company to reach the more effective level of using, recording and processing of all information about orders of our Partners, exchange of documents and calculations with contractors and other operations made.